Aviation Missions: Helping Missionaries Reach the World for Christ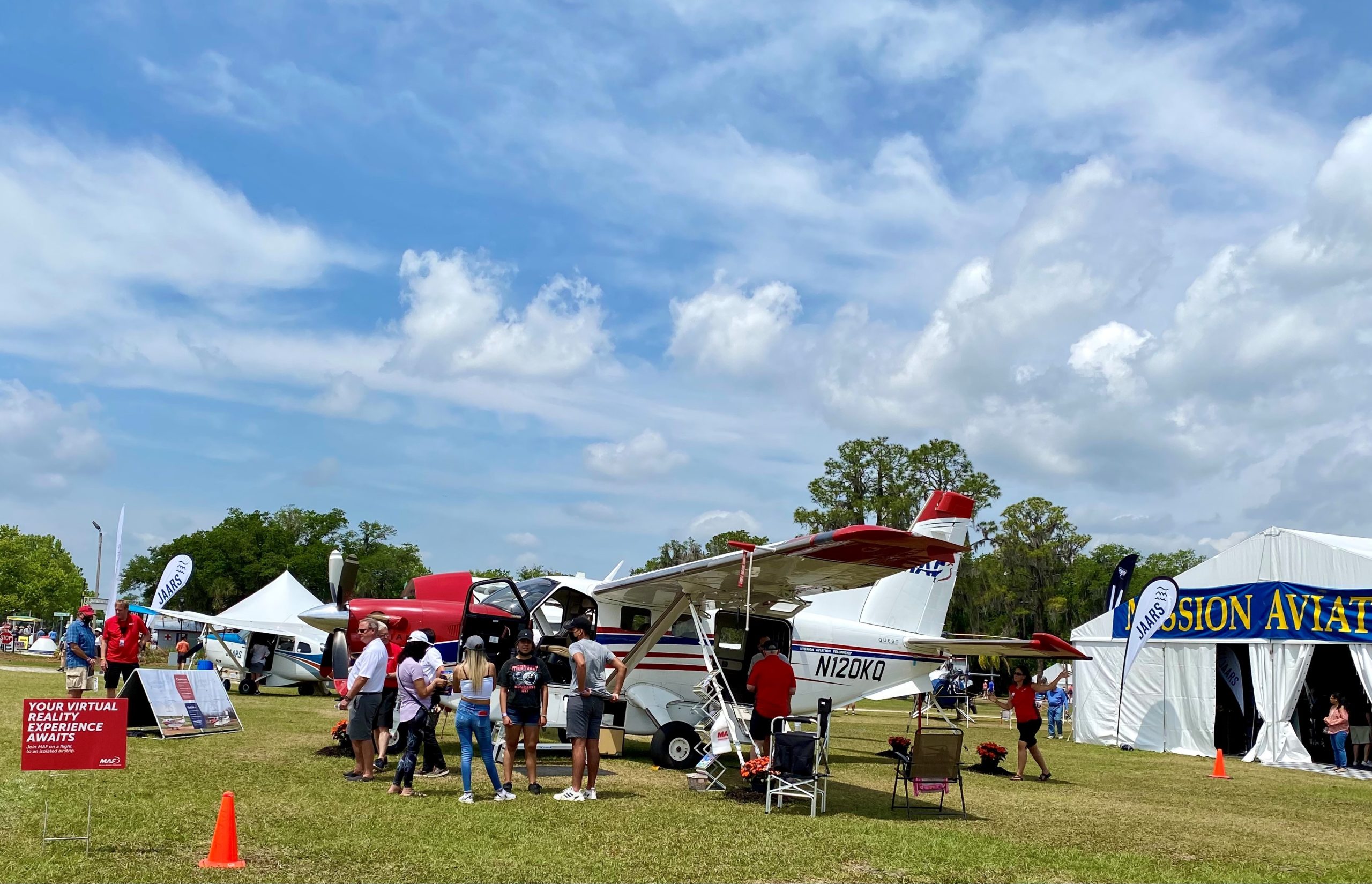 All photos, unless otherwise noted, are property of Charlaine W. Martin. All rights reserved.
My Boaz and I traveled to Florida for the Sun 'n Fun Fly-In a couple of weeks ago since we love to fly. One of my favorite places to go is the Missionary Aviation tent. The stories the missionaries share always mesmerize visitors. The planes outside the tent are unlike any of the others for visitors to see. They are designed to take people and goods to remote places unreachable by vehicle or too far on foot. Missionaries invite visitors to get inside these aircraft to see and hear how they utilize them. This display at the air show gives people a snapshot of what they do, share support raising requests, and let people know the need for more people to become missionary pilots and mechanics through aviation missions.
The Aviation Missions space at Sun 'n Fun was a bustling place! Pilots, Christians from churches, and potential students flocked to the planes, helicopters, and displays inside the tent. I actually had to wait for an opportunity to get a better photo of each so you can see the names of the missions and their displays. However, you can see some of these displays still had quite a few visitors! Let's learn a bit about aviation missions and take a look at them.
What is Aviation Missions?
Missionaries in remote jungles, mountains, and villages in underdeveloped countries need supplies, transportation, and medical help. The best and often only way to get in and out of where they serve God is by airplane or helicopter. They usually have little space for take-offs and landings, testing the most skilled pilots. Some must take off and land on the water, requiring seaplanes. Since most missionaries don't fly themselves, they need pilots to fly these aircraft and aviation mechanics to keep them in good repair. Someone must help from the ground with navigation and other important information the pilots need. They also share the Gospel wherever they go while providing support to those who minister in the day-to-day. Aviation missions are a tremendous support and mission effort of its own to missionaries preaching the Gospel in remote, difficult to reach areas.
Currently, there is a worldwide pilot and mechanic shortage in missions and commercial flights. Not enough students choose to become missionary pilots or mechanics! Either they can't afford to study this at the college level, or they simply don't know about this specialized ministry field. Please, pray for the Lord to provide and open the hearts of would-be missionaries and provide the funds to follow God's call to aviation missions. If the Holy Spirit is nudging you to support or become part of any of these missions, by all means, contact the one God lays on your heart and share with them what He is saying to you. They may be able to help you or give you direction.
I want to introduce you to the various groups present at Sun-n-Fun in the Aviation Missions Tent. In particular, I would like to highlight one this year: the College of Missionary Aviation.
Aviation Ministry Support Association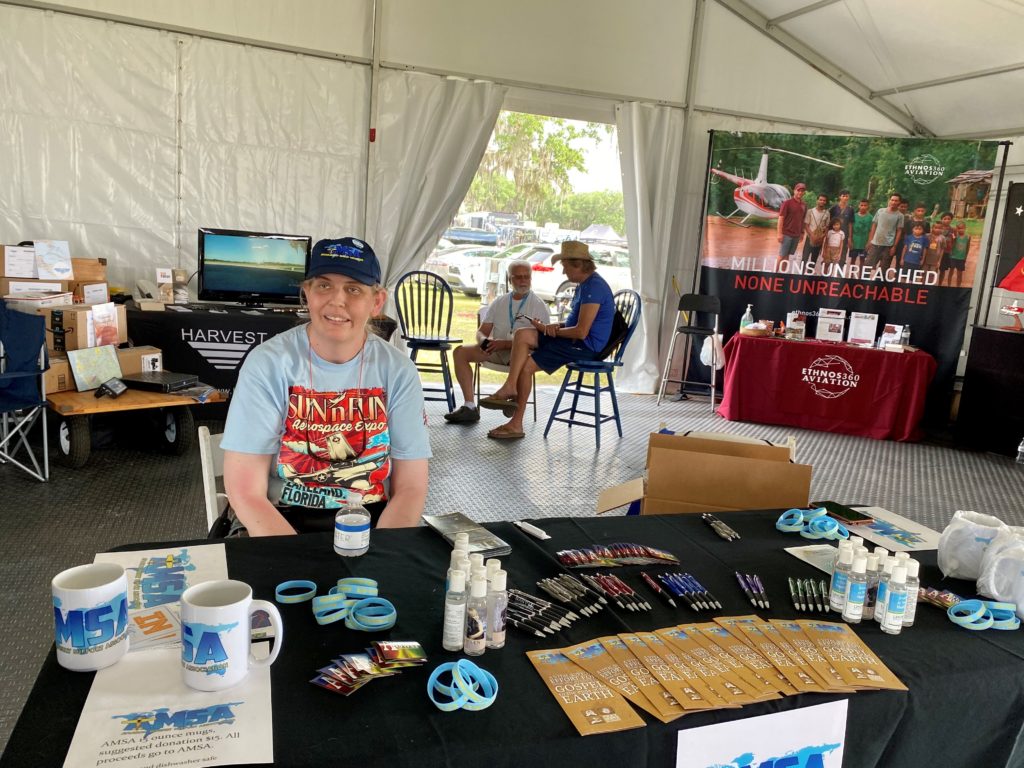 Aviation Ministry Support Association
First, this organization is responsible for the Aviation Mission tent and display at Sun 'n Fun. The cost and ability to pull everything together was too much for the missionaries to do themselves. A Florida businessman named John Hoke believed mission aviators needed to reach others in the general aviation community to share what they do. The Aviation Missions presence at air shows like Sun 'n Fun helps Christians wrestling with their call to missions to discern if God is calling them to this specialized ministry. Aviation Ministry Support Association (AMSA) has helped missionary aviation organizations for the past ten years in several ways:
They help set up speaking opportunities with local churches, schools, and organizations.
They provide meals for the missionary families at the events.
They help secure housing for the missionaries while attending the Fly-in.
They secure transportation for missionaries while they are involved in these events.
They set up speaking engagements and involve the missionaries to speak to the aviation public at Sun 'n Fun.
Another successful model started at Oshkosh in 2009. There are several ways you can help with this critical mission organization by visiting their website at www.amsafl.org.
Special Focus: College of Missionary Aviation
One of the groups that impressed me so much is the College of Missionary Aviation. This vital ministry is where I would like to focus this time because they train pilots and mechanics to serve on the mission field. It is the unique way they accomplish preparing aviation missionaries that caught our attention. Remember, several Christian colleges have aviation programs with a degree of focus on their campuses—which costs students more tuition. Students' most significant barrier to becoming a missionary aviator or mechanic is college loan debt. College debt now surpasses credit card debt in the U.S. It is impossible to raise enough support to be a missionary while trying to pay off a massive college loan debt at the same time! When they finish expensive flight training, there is nothing left to support God's call to the mission field. The campus of Friendship Bible Church in Keystone Heights, FL is home to CMA. All of their classes are held in this church and online. The operations hangar is about 10 minutes away. This special thing sets them apart from other schools with aviation missions. All these college-level courses and academic flight training are taught by volunteer staff, keeping tuition costs low. Planes have been donated for students to take flight and teach apprentice mechanic students how to work on them. Not many people know about this college which is why I've decided to highlight it.
My husband and I talked with Bob and Deborah Britton at the Missionary Aviation tent. According to Bob, the President of the College of Missionary Aviation, "The CMA's founder had a brilliant vision to build up a team of 40-45 volunteers and get the students through their 120 academic credits and 250 simulator and flight hours as inexpensively as possible". He continued to explain, "A Private Pilot License, Instrument Rating, and Commercial License, (with a high-performance endorsement) that also includes 120 academic credits, 36 in Bible, Theology and Missions, 16 General Education, and 68 FAA course credits for required by the FAA along with 250 flight and simulator hours. All your books, lab fees, FAA check-ride, and FAA written exam fees and single housing are included in the projected cost of $60,000."
"We have a male dorm and a female dorm and are also greatly blessed that the food is provided through a ministry partner out of the Gainesville Food Bank, with donated 'food drops.' We pray that ministry continues but know He will provide for those He calls."
"The college has been in existence for six years now and has had nine students complete the program debt-free. They continue in their calling to serve the Lord by getting additional flight and mechanic training at "gap agencies" and ministry partners and working as CFIs to reach the entry-level experience required to be brought into a sending agency" (like some of those mentioned below)
When they talk with potential students, many young people have no idea that aviation missions even exist, asking, "Is missionary aviation even a thing?" As the conversation continues, he shares this with them:
"'Yes, it is!" and from there, the doors crack open so an interested student can begin researching more about it. "In many places around the world, they will find it geographically impossible to reach areas where the Gospel is needed by foot or in a vehicle. The jungles of Africa, South and Central America, the steppes of central Asia and the mountains of Afghanistan, India, and Pakistan, the Amazon basin using floatplanes, the deserts of Male, Niger, Chad, Gabon, and Cameroon, the tundra and snow-packed remote areas of Alaska and northern Canada. Even the U.S. desert southwest and down into remote regions of Mexico are all areas where air travel is the only feasible way to reach the unreached."
The College of Missionary Aviation, located in Keystone Heights, Florida, is about 24 miles northeast of Gainesville, FL. If you are interested in learning more, you can contact them through the online forms at www.collegeofmissionaryaviation.com or 1-844-735-9262. You can also find them on Facebook and Instagram. You can request one of their college representatives to speak to your group (church, homeschool co-op, etc.). They would be honored to meet you. Please use the e-mail above and provide the organization name, topics of interest related to the college, and available time frames.
Aviation Missions at Sun 'n Fun
Several missions groups using aviation as their primary ministry tool to serve people in hard to reach regions of the world shared space in the large tent and outdoors. Let me introduce them to you.
JAARS is a unique aviation mission because they partner with other missions organizations who translate the Bible for remote people groups and teach them how to read the Bible in their own language. The JAARS Mission Statement: "Our mission is to make Bible translation and language development possible, especially in the most remote and difficult places on earth. We do that by enabling locally appropriate and sustainable solutions in transportation, technology, media, and training."
The JAARS Vision: "Our vision is that people's lives and communities are transformed as they experience God's Word in their own languages."
This is precisely what they do. They not only fly missionaries and goods to make doing missions work possible, they also provide other support solutions like technology, media, and specialized training to get the Word of God into the hands of people around the world, who otherwise would never read God's Word and experience a transformed life through the Gospel of Jesus Christ.
Interested in learning more about volunteer opportunities or becoming part of this life-changing mission? Go to www.jaars.org.
Ethnos 360 Aviation
Formerly known prior to 2017 as New Tribes Mission, Ethnos 360 uses planes and helicopters to minister in Papau New Guinea, the Philippines, Asia-Pacific, Brazil, and the U.S. "The plane brings food and supplies. It transports translation and church planting consultants and takes children back and forth to school. Aircraft act as the ambulance for medical emergencies. Flights carry goods and commodities for the village people. In times of drought, flood, and other natural disasters, the plane brings relief," according to their literature.
Mission: "Advancing the spread of the Gospel through aviation to see a thriving church for every people."
Core Purpose: "Ethnos360 Aviation's core purpose is to assist the church planting ministries and likeminded ministries through the use of aviation to achieve the goal of a thriving church for every people."
This aviation mission is unique because not only does it use only airplanes, but also utilizes helicopters! They are in need of a couple more helipcopters to reach people in PNG with the Gospel of Jesus Christ. They also need more pilots, mechanics, technical people, and other positions filled. If you feel led to support or help this mission, go to their website at www.ethnos360aviation.org.
Agape Flights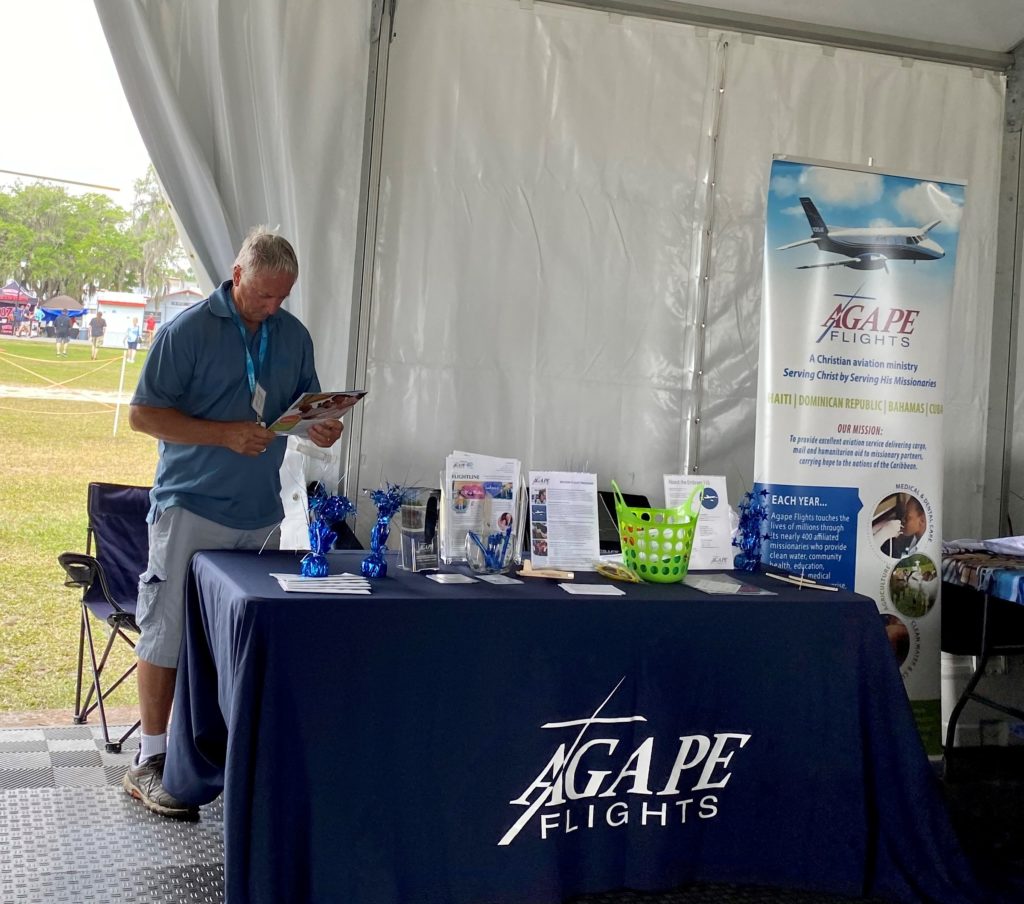 Agape Flights, based in Venice, Florida, serves in Haiti,, the Dominican Republic, Bahamas, and Cuba by delivering mail and supplies to missionaries serving in these places. Agape serves as a "home address" for these missionaries to link them back to the United States. They deliver supplies for disaster relief, and deliver humanitarian aid within Cuba's governmental limits.
According to their website, "Every week our aircraft departs from the Agape Flights' hangar in Venice, Florida – transporting all kinds of provisions. Our pilots are met at airports throughout the islands by missionaries who serve as the distribution network on the ground, ensuring that provisions reach their intended destinations: orphanages, medical clinics, hospitals, schools, and churches. Agape affiliated mission partners share the love of Christ through:
agriculture
athletics
clean water and community resources
education
evangelism and discipleship
home and church construction
medical and dental care
micro-enterprise opportunities
orphan care
vocational training"
Mission: Mission Partners need resources to impact the Caribbean for Christ. We Listen. We Respond. We Deliver.
Vision: A world where mission partners never lack resources to share the unconditional love of Christ.
They are in need of volunteers, financial donations, and prayer support. To learn more, visit www.agapeflight.com. (Special note: Google Chrome flagged this website as risky, but it is because it has http:// not https://. I was able to go to their website safely by overriding my web browser.)
Harvest Aviation
Harvest Aviation, based in Wauchula, Florida, serves missionaries in Honduras and Belize primarily, but have been requested to support missionaries in Guatamala. This request is under prayerful consideration. They serve these missionaries through transport of supplies, training, and missionary care. They say that it is less expensive and the shipments arrive in a timely manner from their flights rather than using a shipping service. In some of my past experience with missionaries, some shipments to various countries around the globe never arrive at their destinations. Aviation missions not only delivers in a timely manner, but they aid in sharing the Gospel, provide encouragement, and are a friendly face and a helping hand.
Harvest Aviation offers pilot training by helping pilots who will serve the appropriate FAA regulated training for the certificates they need. A journeyman program gives new A&P mechanics the hours and experience they need to keep aircraft in service. They train indigenous pastors in the Bible, who otherwise would not have the ability to understand and covey God's Word to the people they serve. This training is vital to keep these missionaries and support people serving in the manner in which they were called by God.
Missionaries often feel burnout, home sickness, and have unique stresses unique to serving in missions. Harvest has life coaches and soul care support for the missionaries and other workers at Harvest Aviation to help them overcomes these challenges and thrive in their ministries.
Mission: Harvest Aviation serves missionaries and churches unto the glory of God.
Vision: Harvest Aviation's core ministries are air support, next generation training, and missionary care.
Feeling led to support them or become a part of their team? Go to www.harvestaviation.org.
Mission Aviation Fellowship
Also known as MAF, headquartered in Nampa, ID, uses aviation and technology to help people in remote areas and are separated from the support they need by political and religious barriers. According to MAF, "MAF is a family of organizations led by people in countries around the world who have a similar vision of taking Christ's love into the most remote places on earth. MAF-US collaborates with our sister organizations to meet spiritual and physical needs in 37 different countries. Collectively, our fleet of 135 airplanes serves some 1,500 non-profit, churches, and humanitarian organizations."
They provide:
Technology to remote pastors and missionaries to communicate, receive training, information for medical teams, and coordinate disaster relief teams.
Reach people with the Gospel of Jesus Christ.
Transport Bible translators to remote locations to learn the language and translate the Bible in that language, as well as, transport Bibles to remote people in their language.
Provide aviation and technology training to those serving on the mission field.
Provide Medvac flights to transport people from remote areas to hospitals and health clinics, and transport medical supplies and medical personnel to remote villages.
"delivers building supplies, food, clean water and agriculture projects, commerce, school teachers, and more."
Transport students to schools, teachers to remote places, and delivering school supplies.
"come alongside church leaders and Christian workers from around the world as they share the love of Jesus with isolated people who have never experienced it. Passengers on our airplanes might include local pastors traveling to conference, missionaries from the US or Europe, Bible translators, or indigenous evangelists who want to reach a neighboring tribe with the Gospel."
"responds to crises, delivering food and clean water, medical supplies, shelter, and materials for rebuilding. Other relief organizations rely on MAF's airplanes and skilled pilots to get them to disaster sites safely, while MAF's communication systems and logistics expertise enable their work."
Mission: Sharing the love of Jesus Christ through aviation and technology so that isolated people may be physically and spiritually transformed.
Vision: That every person on earth will experience the love of Jesus Christ and respond to the Gospel. (Philippians 2:10-11; John 3:16; Revelation 7:9).
Currently, MAF could use support for essential maintenance and repair for their fleet of 47 aircraft. So far, they have received generous donations to finish upgrades and repairs for one airplane in Haiti. They still need funds for an engine overhaul and repainting of aircraft in Papau, Indonesia. To learn more about how you can serve or support MAF, go to www.maf.org.
Thank You!
Thank you for reading through this lengthy blog post and considering how you might become partner with these missions in their specialized support to missions and missionaries worldwide. I would love to hear how God is speaking to you through this post. Feel free to share in the comments below. Many blessings to you!